Legal assistance in Spanish, German and English
Abogada – Lawyer – Rechtsanwältin
Do you need assistance or legal advising? Let us help you

Legal assistance with the purchase/sale of property
We will advise and assist you in the negotiation and conditions of contracts, advising you throughout the process, accompanying you to the Notary Public offices for the granting of deeds, managing the opening of bank accounts for non-residents, so that all of this may be carried out in a secure and guaranteed manner so that all of this may be carried out in a secure and guaranteed manner.

Tax payment procedures
Income tax for individuals, non-residents, patrimonies, companies, municipal taxes and fees; property tax, capital gains tax, licence fees…

Legal processes
Pursuit of late payments, divorces, division of inheritance, evictions, traffic accidents, drunk driving, execution of sentences…

Property owner communities
Advising property owners and the community of owners. We can help you with the management of the property owner community, attend the meetings for you.
Late payment pursuit services are carried out for the community.

Company assessment
Incorporation, management and advising of companies, limited liability societies, even taxes, etc. Request for and obtaining fiscal identification number (CIF) for new companies, even foreign companies.

Procedures, Processes and Notarial Assistance
New building and works completion declarations, rectification of boundaries, capacity expansion, deeds of acceptance and partition of inheritance, wills, notarized divorces…

Administrative procedures
Before the City Hall and the Consell Insular: works licences and seasonal rentals, occupancy permits, urban planning certificates, seniority certificates

Others
Allegations, last name changes, foreign identification number (NIE) requests, insurance management (Check with us before purchasing your insurance plan),
Claims for damages caused by losses, both in the home and bodily harm from traffic accidents. Animal rights; animal abuse complaints and compensation for bites or other injuries
And remember that we offer all our legal advice in Spanish, German and English.
For more information on any of our specific services, don't hesitate to contact us:
Do you need an attorney in Ibiza?
Come visit us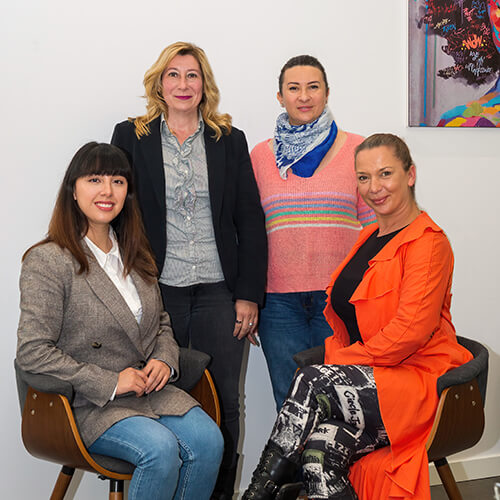 Do you like to meet the team?